Launching a cannabis beverage brand: The Drinkable Company shares its top tips
Drawing on decades of experience in the beverage industry, Mark Mahoney teamed up with other industry veterans to launch The Drinkable Company. Here, he shares his top tips on launching a cannabis beverage brand, the opportunities and challenges for cannabis drinks, and how he expects the category to develop in the coming years...
Mark Mahoney will take part in BeverageDaily's FREE webinar on Beverage Innovation on November 8​​, joining a panel of beverage experts who will share their insights and opinions on what's hot - and what's not - in today's beverage industry. 
Ahead of the webinar - which you'll be able to ​watch live or on-demand​​ - we catch up with Mark Mahoney to find out more about the opportunities and challenges in the cannabis beverage market.
BD: Introduce us to The Drinkable Company…​
MM: The Drinkable Company launched in the summer of 2023 by a team of beverage industry experts with over 200 years of combined experience in the food and beverage markets.
We currently have cannabis infused Zenith Cold Brew, Tiger Tea, and Swivel Handcrafted soda in select dispensaries in the states of Massachusetts and Maine.
Our first investment in the space was with an emulsion technology company in NY, Cirona Labs, founded by a Student while at Cornell University.
BD: What are your products and who is your target market?​
MM: Our target market consists of folks replacing alcohol beverages, canna curious and those looking for a simpler way to socialize without the hangover and damage that alcohol causes. We are the sole cannabis beverage portfolio company in New England.
Current customers are loving the variety within our product line up which includes Zenith Cold Brew, Tiger Tea, and Swivel Soda.
We have more varieties launching in a few weeks in collaboration with local cannabis companies. 
Zenith Cold Brew Coffee: ​'carefully brewed and richly flavored and has zero calories. The fusion of locally roasted coffee, tantalizing flavors, accompanied with cannabis makes for a perfect 'pick me up' at any point of the day. Whether the consumer needs a boost in the morning , a recharge in the afternoon, or just simply finds bliss in cold brew, Zenith is the perfect journey.'
Tiger Tea: Cannabis Infused Real Tea:​ 'thoughtfully brewed yielding a naturally powerful experience. Made with freshly brewed, real green tea, this lightly sweetened and antioxidant rich beverage leaves consumers with a refreshing, earthy sensation. Tiger Tea also comes in two varieties including strawberry, along with the combination of wild berry and hibiscus.'
Swivel Cannabis Infused Craft Soda: ​'made for the consumers who are ready to shake things up in any social setting, without the aftermath of a hangover! Available in four varieties including cola, diet cola, orange, and root beer – the naturally flavored, low-calorie soda leaves consumers feeling light and airy and has less sugar than most craft sodas.'
BD: How strong are your beverages? And what should people expect when they drink them for the first time?​
MM: All our beverages contain 5mg THC per 12oz can - the legal limit for dosing a recreational cannabis product.
We strive for a positive experience and effect with zero "taste" of cannabis (If you want to taste and smell cannabis, buy flower, a pre-roll, or an edible).
We do caution people to try ½ a beverage first and then waits 15-30 minutes to see the effect, everyone has a different tolerance, so take it slow at first.
BD: You're described as 'the definition of a serial beverage entrepreneur', and, over the last four decades, you've served in various roles for CPG brands: Mixerz Napa Valley Cocktails, Powell & Mahoney Craft Cocktails, Atomic Coffee Roasters to name a few. But the cannabis beverage category is something pretty new to you. Does your experience count for much here – or is it a completely new?​
MM: I'm a career veteran and I've absorbed and learned A LOT in the short time since we launched the business.
I always viewed cannabis as another "ingredient" and having the experience and benefit of a strong team, food, and beverage stalwarts, just makes the business that much more predictable.
Making safe, consistent, and craveable beverages that appeal to all day parts and a wide demographic is our mantra.
The sales and distribution challenge are one specific to cannabis and there needs to be a serious appeal for change to the overreaching hurdles that cannabis businesses are faced with (including unfair taxation, delivery vehicles requiring multiple drivers, storage, and display of beverages on the dispensary floor vs. locked in a vault at night, etc.)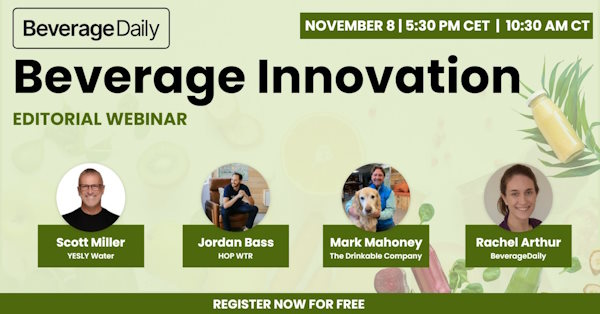 Live webinar: Beverage Innovation:​ Mark will be joined by Scott Miller (the CEO of YESLY, and an industry veteran who led premium functional water brand Essentia to its sale to Nestle in 2021) and Jordan Bass (a beverage entrepreneur who co-founded functional beverage and alcohol-alternative HOP WTR, having previously worked across ecommerce, corporate strategy & venture capital.​
BD: What's your top tip to other entrepreneurs hoping to break into the cannabis beverage category?​
MM: Find a mentor or someone who is in the field to "challenge" your ideas/plan/launch. Be very specific on your points of differentiation and your "why".
Talk with your prospects and see what's selling and understand the economics of your product before you bring in a dollar of other people's money.
BD: Where do you see the US cannabis beverage category in 5 years time?​
MM: Cannabis and hemp derived beverages will not be sold in dispensaries in 5 years' time, they'll be ubiquitous in supermarkets, convenient stores, and on tap in bars and restaurants.